Working, visiting and living in Downtown Vancouver; your guide to the local hotspots and recommended places
Vancouver is full of unique, characteristic neighbourhoods that one can live or play in. Downtown Vancouver is certainly one of the most notable areas of the city, especially on an international scale. It is the city's main, and original, commercial hub. Over the years, several neighbourhoods developed around it. But, Downtown Vancouver's historic city blocks still maintain their 'hold' as the dense, financial and business district where few live, but many commute to and visit.
During the day, Downtown Vancouver is bustling with activity, and is full of people. The crosswalks are always pedestrian-minded. Most international companies have their local offices in this part of town. Transit lines have many direct routes to and from this area.
In addition to year-round shopping and entertainment, the Downtown core hosts several seasonal events that draw in crowds from surrounding cities. These include the Vancouver Sun Run, the Santa Claus Parade, the Vancouver International Film Festival, the Vancouver International Jazz Festival, the Vancouver Pride Celebration, and more.
Residents don't just live here because it's a place to dwell; it comes with an urban lifestyle all of its own.
From the affluent to the 'underdog,' to the immigrant and the socially marginalized, one can find all walks of life on Downtown Vancouver's streets, and in its buildings. However, most of the time, it's the educated, higher-earning, small-household, young urban professionals that you'll find as its residents. According to the Downtown Vancouver Business Improvement Association, the neighbourhood is a lively and growing community of singles and couples living in condos.
Visually, the Downtown Vancouver backdrop is, arguably, gorgeous. It offers striking views of nature's mountains and oceans at a close distance. It is surrounded by beachfront and boat terminals. It is bridged across waterways that reflect their 'blue hue' off of glass buildings – even on the city's many dreary, cloudy days. Nearby, residents get their 'dose' of nature at Stanley Park – a large, world-renown, wooded acreage in the heart of a skyscraper 'village' (kind of like Central Park in New York).
Downtown Vancouver's foreground is compact with several sights of concrete-and-steel, modern architectural marvels. They strongly hint at the city's wealth of civilization, culture and technological innovation. Though modern and well-kept in every way, the area preserves its beautiful, old, colonial buildings – buildings which date back to the city's infancy in the 1800s, and into the early 1900s.
Within walking distance, residents of Downtown Vancouver can find several other dense and urban neighbourhoods. They can also easily access public transit and roads leading to cities in the metropolis that has formed around it for over 150 years.
What is downtown Vancouver?
The definition of "downtown Vancouver" can be a little bit confusing to some. If you go by Wikipedia, Google Maps, a school catchment area map or a real estate board's map, you'll see that the lines get 'blurry,' depending on who you're talking to.
Not only that, since Downtown Vancouver is so close to other bustling, commercially-centered Vancouver neighbourhoods, many may colloquially refer to the combination of those neighbourhoods as just, "downtown."
The word "downtown" in itself, usually refers to a commercial center of a metropolis. So, it's natural to think that an entire, traffic-jammed, urban area in Vancouver is all of downtown. However, this is not exactly the case. The word "downtown" in "Downtown Vancouver" is not just an adjective; it's an official part of a neighbourhood name.
So, when we split hairs, we can say that Downtown Vancouver is actually a single neighbourhood within Vancouver's northernmost peninsula.
This peninsula is the one that people incorrectly call "downtown." It's the one that reaches out to the Pacific Ocean from the Fraser River to the west. To the north, the peninsula is bridged to the City of North Vancouver. To the east, south and southwest, the peninsula connects to several other Vancouver neighbourhoods. Many of these other neighbourhoods are not as densely populated, nor as commercialized, as the peninsula we're talking about here.
On this peninsula you'll find neighbourhoods named Yaletown, the West End, Coal Harbour and, of course, Downtown Vancouver.
The official, "Downtown Vancouver" borders all of the aforementioned neighbourhoods. It is the south-easternmost part of the peninsula. It also includes Gastown, in case you're wondering why we didn't list that one above. And, False Creek falls within Yaletown. What about the Downtown Eastside? This is a neighbourhood that is adjacent, to the east, of Downtown Vancouver (it includes Chinatown and Japantown).
What is it like visiting and living in Downtown Vancouver?
Downtown Vancouver is a busy business and commercial district. Several companies operate out of many high-rise office towers in this area. Hotels, shopping and entertainment centers, community centers, schools and condominiums are also found on its street blocks. Visiting or living in Downtown Vancouver will never leave you short of something to do, that's for sure.
Parking in Downtown Vancouver
When living in Downtown Vancouver, you'll find that – like most urban commercial centers – parking spots are hard to come by. The city supports commuters by providing public transit via busses and skytrains. In fact, there is a large, central train hub within walking distance, in Coal Harbour. It's called Waterfront Station. There are also legal, affordable car sharing programs and taxi services one can use (including Uber and Lyft). In fact, the city incentivizes using car-sharing in Downtown Vancouver, as you can see here.
While it's certainly possible to get by living in Downtown Vancouver without owning a car, most who choose to invest in a condo in this area prefer to have a parking space with it. In residential buildings, parking spots are most-definitely going to be underground. These spots are also typically paid for on top of strata fees. They are almost like real estate in themselves!
Commuters who drive to work in Downtown will usually lease a parking space (including from condo owners). Leasing can also include paying a monthly fee to park in a multi-story parking tower, or an underground lot. Businesses may provide parking spots to their employees when they work in large office towers. Occasionally, restaurants will have 'back door' parking spots, meant for one or two cars at a time. And, residential buildings may have communal, visitor parking spots for its residents to be able to host guests, temporarily.
Tourists and occasional visitors can also find street pay parking using city meters in the area. They are monitored by city workers, and usually come with 2-hour time limits. Shopping centers often have patrolled parking lots, too. These may come with time limits, or require a proof of purchase for validation (i.e. to waive the parking fee).
It is rare to find free parking in Downtown Vancouver. If you do, it may mean a lot of time searching. It may also involve a lot of distance walking to your destination, once you find a spot.
Hotels in Downtown Vancouver
Downtown Vancouver hotels come with many options. The most notable names for luxury hotel stays in the area include:
The Pan-Pacific (5-star hotel)
Rosewood Hotel Georgia (5-star hotel)
Residence Inn by Marriott Vancouver (4-star hotel)
Delta Hotels by Marriott Vancouver Downtown Suites (4-star hotel)
The Westin Grand Vancouver (4-star hotel)
Fairmont Hotel (4-star hotel)
Fairmont Waterfront Hotel (4-star hotel)
Hotel Le Soleil (4-star hotel)
Metropolitan Hotel Vancouver (4-star hotel)
EXchange Hotel Vancouver – An Executive Hotel  (4-star hotel)
Auberge Vancouver Hotel  (4-star hotel)
And more.
Within walking distance to nearby neighbourhoods, one can also find:
Wedgewood Hotel & Spa (5-star hotel)
Trump International Hotel & Tower Vancouver (5-star hotel)
Shangri-La Hotel, Vancouver (5-star hotel)
Hyatt Regency Vancouver (4-star hotel)
La Grande Résidence at Sutton Place Hotel Vancouver (4-star hotel)
Sheraton Vancouver Wall Centre (4-star hotel)
Loden Hotel (4-star hotel)
Vancouver Marriott Pinnacle Downtown Hotel (4-star hotel)
And more.
In addition, the area offers several lower-cost hotels, with very decent amenities, such as:
Ramada Limited Vancouver Downtown (3-star hotel)
Ramada by Wyndham Vancouver Downtown (3-star hotel)
Residence Inn by Marriott Vancouver Downtown (3-star hotel)
St Regis Hotel (3-star hotel)
Victorian Hotel (3-star hotel)
Sandman Hotel Vancouver City Centre (3-star hotel)
Hampton Inn & Suites by Hilton Vancouver-Downtown (3-star hotel)
Rosedale on Robson Suite Hotel (3-star hotel)
Hotel Belmont Vancouver, Ascend Hotel Collection (3-star hotel)
Holiday Inn & Suites Vancouver Downtown (3-star hotel)
Best Western Premier Chateau Granville Hotel & Suites & Conference Centre (3-star hotel)
GEC Granville Suites Hotel (3-star hotel)
And more.
Of course, budget travellers can also find 2-star hotels, and listings on sites such as AirB&B or other VRBOs.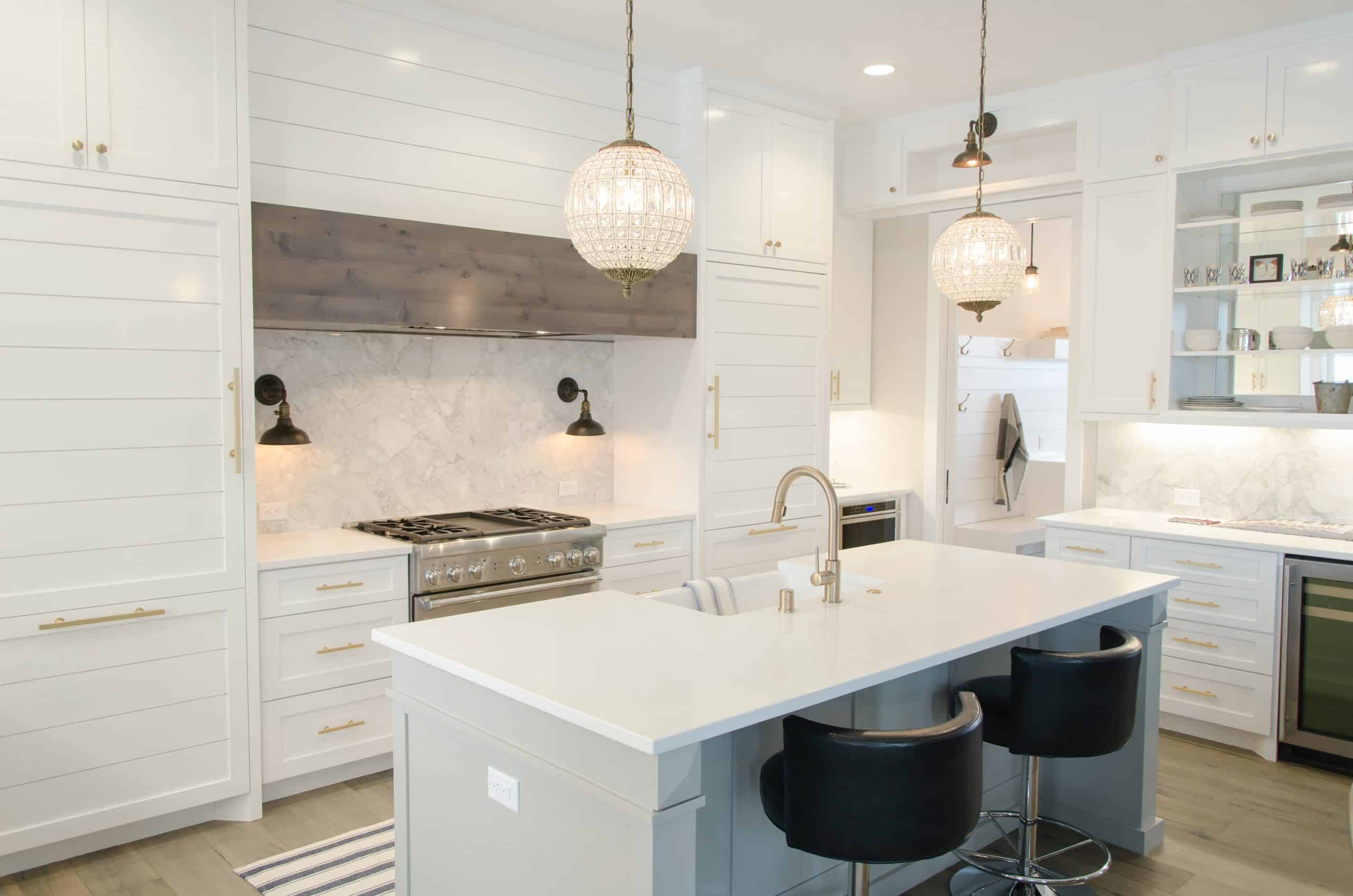 Downtown Vancouver condos and real estate
If you're looking at buying real estate to live in Downtown Vancouver, you'll find several options, but they'll most likely be condos. Condos in Downtown Vancouver can come in luxury or modest forms. And, buying in this area is certainly a case of "location, location, location." People will pay a premium per-square-foot to live in this urban center, compared to living outside of it. That said, for some, the lifestyle and accessibility it offers is far worth the investment.
The price of buying a condo in Downtown Vancouver
As of 2020, when browsing Downtown Vancouver MLS Listings, you'll find the benchmark price of a condo to be about $664,000. However, the average price for a condo in this neighbourhood comes to about $850,000. That calculates as a rough, $1,088/sqft. However, the options and specifics of the property in question can change those numbers.
For example, living in a Downtown Vancouver loft can come in at the lower end of the average condo price range. But, living in the Shangri La Vancouver (a 5-star hotel with residential suites), can come in at the higher range. Still, living in a Vancouver penthouse can exceed the high end of that range.
Generally, someone can buy a one-bedroom condo in Downtown Vancouver for $623,000. Or, they can opt for a two-bedroom condo for $992,000. The latter accounts for 50% of condo sales in Downtown Vancouver, and the former, 40%.
Learn more about Vancouver real estate prices on the following page of our website:
We can also help you find a condo to buy in Downtown Vancouver. We'll search based on the price that suits your budget! See the following page of our website for current Downtown Vancouver listings:
Wondering about school catchment areas in Downtown Vancouver? There are three public schools in the area, which are:
Elsie Roy Elementary School
Lord Roberts Elementary School
King George Secondary School
There are also several higher education institutions with branches in the area. These include the University of British Columbia, Simon Fraser University, as well as career colleges and English Language Learner schools (i.e. ESL, TOEFL, TESL schools).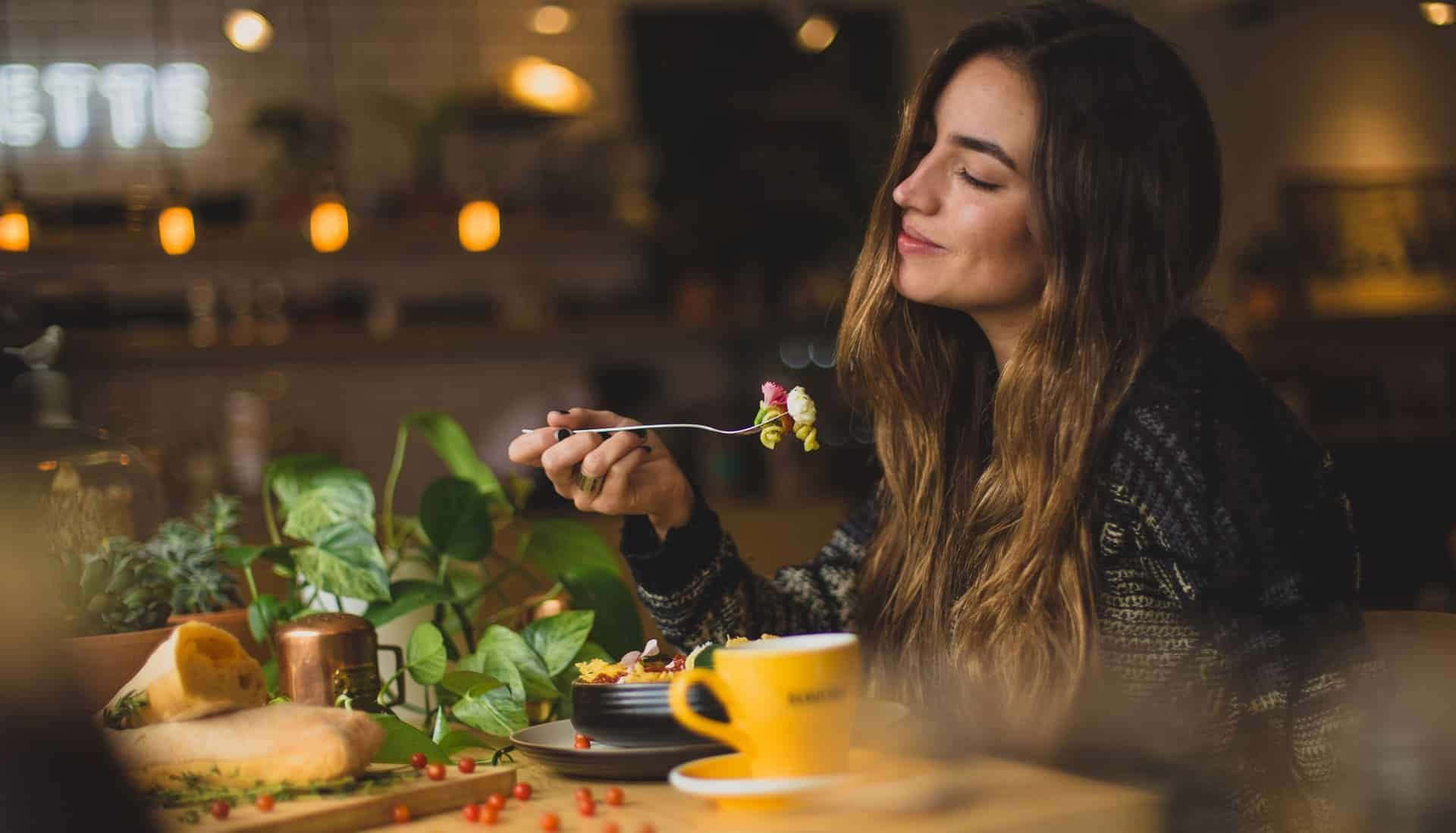 Downtown Vancouver restaurants
Many locals, bloggers and Yelp-raters alike will boast about their list of the best restaurants in Downtown vancouver. While you can find varying opinions, food preferences can play a large part in how one perceives the 'best' of Vancouver eats and bites.
Given that it's a coastal city, one can always expect Vancouver to offer a bounty of Asian, or Asian-inspired dishes. And by "Asian" we don't just mean East Asian. We mean, all of Asia's flavours, from the Middle East, to India, South Asia, South East Asia, plus the intricacies of East Asian Chinese food, Twainese food, Japanese food, Korean food and more. Then, there are the 'fusion' restaurants that brilliantly bring together the best of these geographic ingredients, sometimes combining them with European or other cuisines.
If we were to give you a list of foods you must try when visiting or living in Downtown Vancouver, we would recommend:
The best sushi in Downtown Vancouver:
Miku Vancouver. As of November 2020, this restaurant was rated at 4.6 out of 5 stars, based on 4,376 Google reviews. Find it at 200 Granville St #70, Vancouver, BC V6C 1S4.
Momo Sushi. A close second with a 4.2 out of 5 rating based on 1,554 Google reviews. Find it at 6-375 Water St, Vancouver, BC V6B 5C6.
The best breakfast and brunch in Downtown Vancouver
The best lunch in Downtown Vancouver
MeeT in Gastown. As of November 2020 this lunch spot had 4.5 out 5 stars based on 2,444 Google reviews. It's a vegetarian restaurant, too, which speaks further to its high rating! Find it at 12 Water St, Vancouver, BC V6B 4K7.
Italian Kitchen. As of November 2020 this eatery had 4.1 out 5 stars based on 1,444 Google reviews. Find it at 860 Burrard St, Vancouver, BC V6Z 1X9. Plan to go after a visit to the Vancouver Art Gallery, which is 4 minutes away by walking!
The Mexican Antojitos y Cantina. As of November 2020 this mexican restaurant had 4.4 out of 5 stars based on 1,341 Google reviews. Find it at 1049 Granville St, Vancouver, BC V6Z 1L4.
The best dinner in Downtown Vancouver
Things to do in Downtown Vancouver
With parking, lodging and food planned for, you'll also want to explore things to do in Vancouver, whether as a homeowner or tourist.
Here are our recommendations: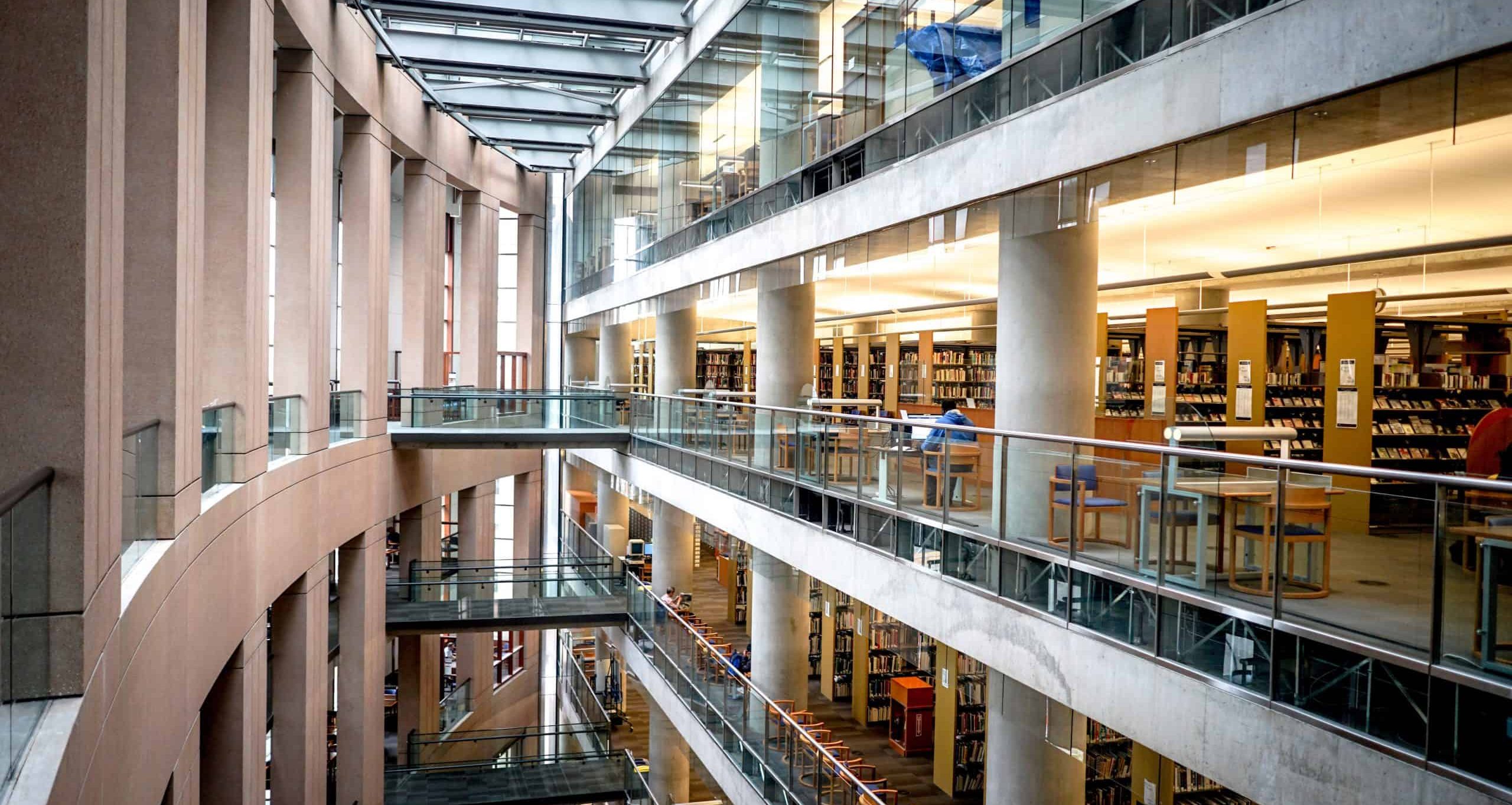 The Vancouver Public Library, Central Library
The city's library offers several branches to reach its many neighbourhoods and citizens. However, the most iconic of these branch locations is the Central Library. Often, locals refer to this building as simply, "The Vancouver Public Library." It is located inside Library Square Tower Shops & Food.
The reason it is so iconic is that it is a round, architectural marvel. It also offers a plaza for socializing, not just reading or researching! Its Google business listing aptly describes it as "the city's grand central library, with a colonnaded surround reminiscent of a Roman amphitheater."
The Vancouver Art Gallery
Mentioned above as being near some top-rated restaurants, this is Vancouver's exhibit of creative works from around the world.
In its collection you'll find works by some of Vancouver's most notable artists, such as Emily Carr (whom Emily Carr University was named after). It also features historical and indigenous art, such as those of Bill Reid. And, the organization hosts a touring collection that celebrates the heritage of many Vancouverites: The Institute of Asian Art (IAA).
The gallery sits before a large lawn where many locals gather to socialize, picnic or bathe in the sun. It's also a convenient spot for events and organized, peaceful protest gatherings (in case you happen to arrive on a day to see passionate, social, 'game changers' in action).
Cineplex Odeon International Village Cinemas
Located inside a shopping area called International Village, the Cineplex Odeon theatre is a 12-screen movie house showing the latest from Hollywood. It also plays independent movies, 'flashback' oldies and international titles. It has six 3D screens, which is always fun for adults and children alike.
Concessions sell candy, pizza, and Starbucks Coffee. You can also head there after eating at a nearby restaurant, which shouldn't be hard to find, since the area is populated.
Oh, and parking is free! Just watch for the signs to ensure you're in the right zone. And, keep your ticket stub handy for proof that you were a patron.
Note: if you can't make it to show listings at International Village, try Scotiabank Theatre Vancouver. It's another Cinneplex movie theatre in Downtown Vancouver.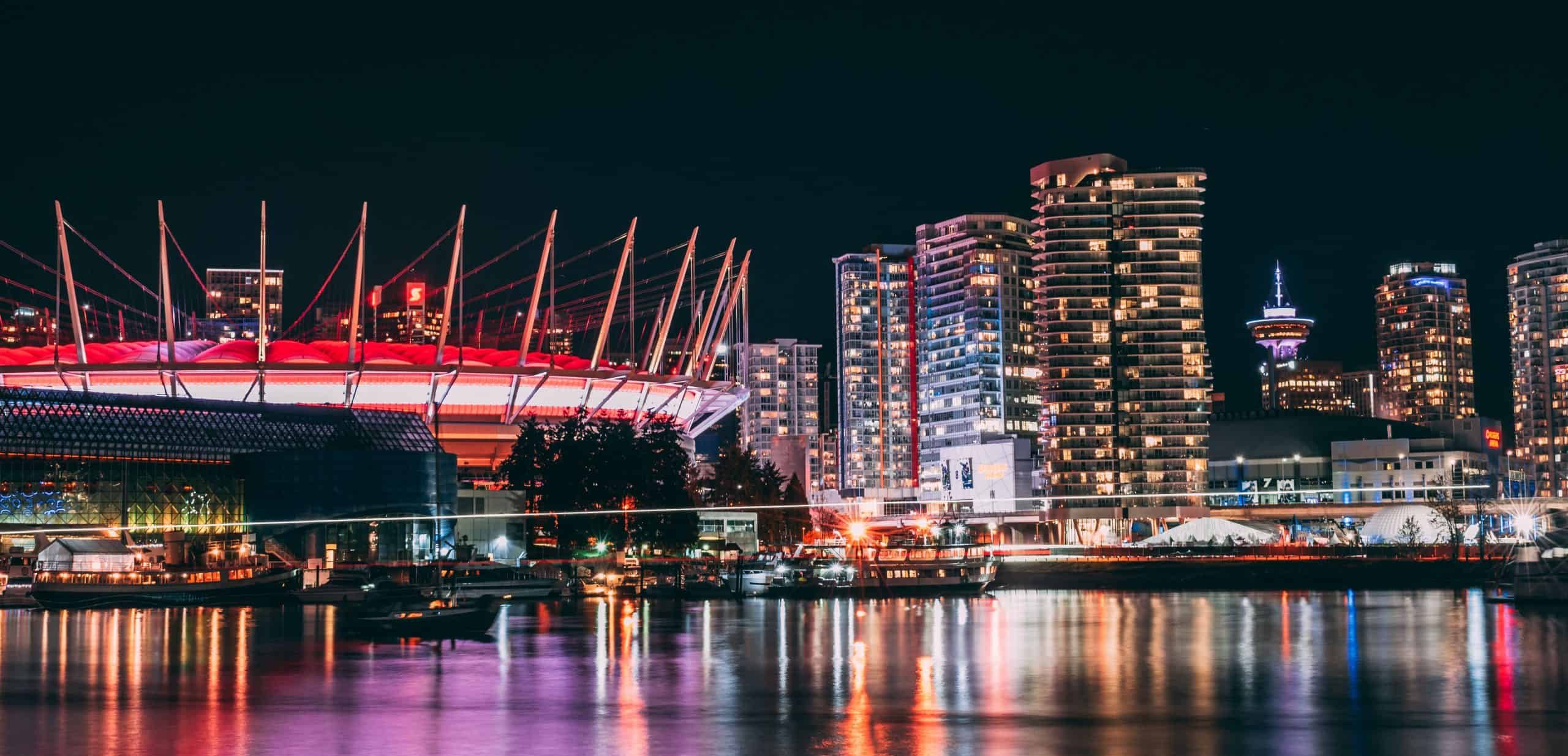 BC Place Stadium and Rogers Arena
If you're in town to root for local (or international) sports teams, these arenas are where you'll find yourself. During hockey season, the crowds are huge. For that reason, ticket holders sometimes purposefully choose inconvenient parking on those days. They prefer to walk the distance to be able to 'get out' of the traffic jam sooner. Or, they stay in a nearby hotel!
Inside Rogers Arena you'll also be able to visit the Canucks Team Store. To feel extra Canadian, grab a doughnut and coffee at Tim Hortons in the arena, eh? Or, if it's lunch or dinner time, try a Triple O's burger – a Western Canada favourite, created by White Spot restaurants. There's a Triple O's stand in the venue.
These venues are also where celebrities perform, and concerts are held.
Robson Square
This plaza is not far from the Vancouver Art Gallery. It serves as another social gathering hub. Bypassers are frequent as they beeline to school, work or play in the plaza.
During winter, The Robson Square Ice Rink is a dazzle with Santa Clause, gingerbread men and carollers. It's a kid-friendly, outdoor ice skating venue covered with a pretty, dome-shaped, glass canopy (which is perfect for Vancouver's rainy weather).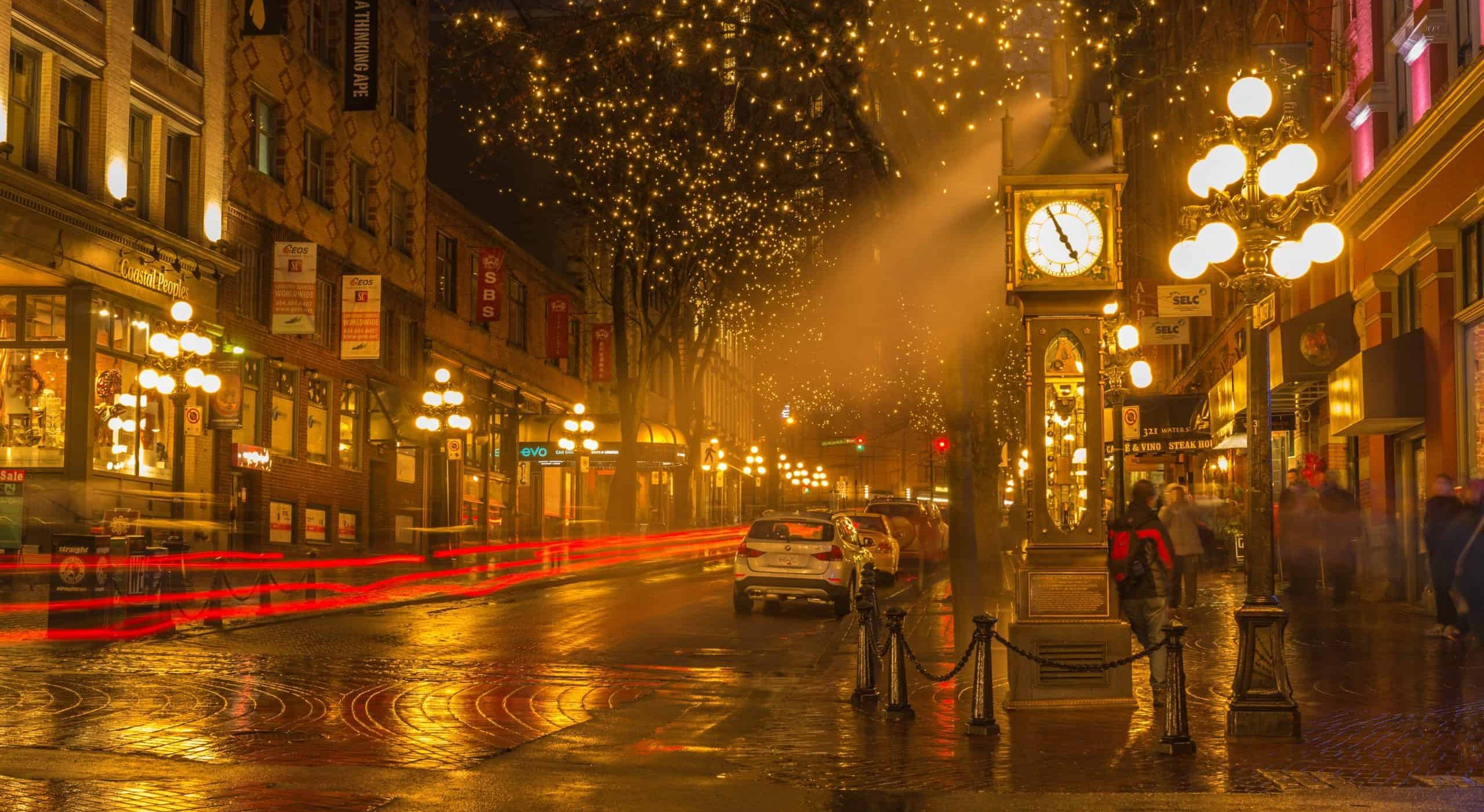 Gastown
Gastown is a history-rich area of Downtown Vancouver, with several old-style character buildings and brick pathways. It has the charm of an early 20th Century, European storybook-inspired town, with elaborate street posts and lamps. Think: Mary Poppins visits the Western Frontier.
However, this area's settler timeline spans back to the 1800s. In its early days it was 'the' downtown area of Vancouver. Today, it's a National Historic Site with international recognition for being "stylish" (yes, it was named a top, "stylish" neighbourhood). Learn more about its heritage, here.
Gastown's most notable landmark is the Gastown Steamclock. Nearly all tourists venture to the area just to be able to catch a photo of themselves in front of the clock, while it whistles. And, this has been a 'thing' since long before Instagram or 'selfies'! People actually line up and wait for the steam to get their photo op.
While you're there, stop by the souvenir shops for great deals and a variety of gifts to take back to your home country. Or, boast your Canadian-ness while living in a Downtown Vancouver condo. Either way, Gastown is among the best places to shop for distinct souvenirs, from tacky magnets, to t-shirts, to maple syrup and all the way to luxury, carved ornaments.
Gastown is also where the Old Spaghetti Factory is located, which we noted above as one of the best dinner restaurants in Downtown Vancouver.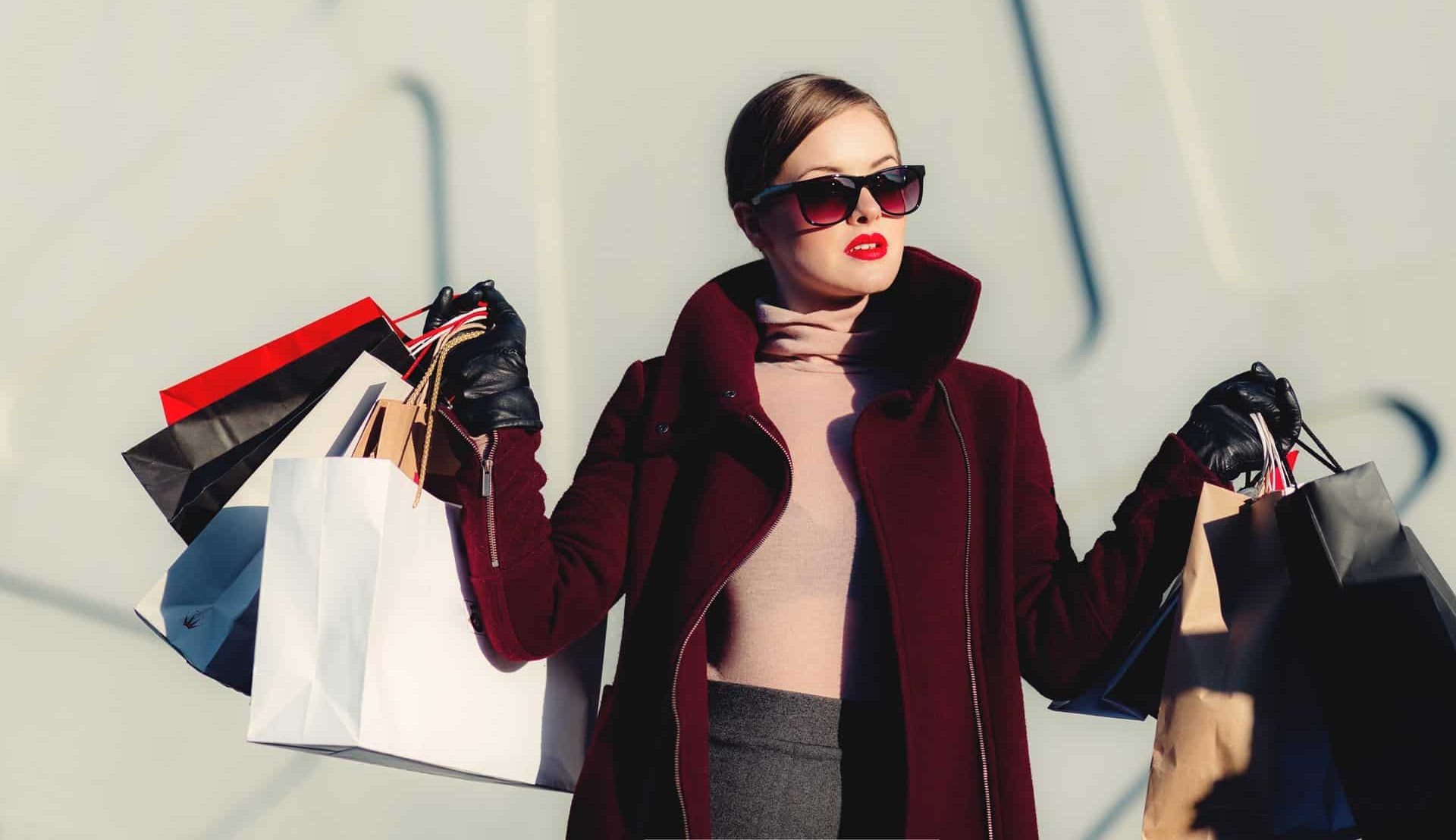 Indoor shopping in Downtown Vancouver
Downtown Vancouver's main shopping mall, CF Pacific Centre, is where you'll find many of the district's 'big box' retailers in an indoor space.
This mall's main 'anchor' stores are:
Holt renfrew (a Canadian-based designer department store).
Nordstrom Downtown Vancouver (an American-based upscale department store).
Plus, they house many, many more well-known retailers, including restaurants. See a list of stores, here.
Street shopping Downtown Vancouver
What would any downtown center be without street shopping? Downtown Vancouver is home to a lot of traditional-style, street-entry shops. They come in small, medium and large-size too! From multi-story department stores to boutiques and stands, you'll find the following, notable stores while walking through the area:
The Hudson's Bay (a.k.a. The Bay, or HBC) Downtown Vancouver (an upscale department store boasting a long history of being Canada's original trading company).
Zara Downtown Vancouver (an International clothing store).
Winners Downtown Vancouver (an outlet style, discount department store).
Staples Downtown Vancouver (an office supply store).
Indigo Robson (formerly Chapters) Downtown Vancouver (a Canadian-chain bookstore with several gifts and trinkets to browse through).
And many, many more.
Nightlife in Downtown Vancouver
Vancouver's nightlife offers several bars, clubs and discos. Some notable ones are:
Local services in Downtown Vancouver
If you're feeling a little under-the-weather while living or roaming about Downtown Vancouver, there is respite!
Try:
Massage therapy by a registered massage therapist (RMT) in Downtown Vancouver
If what you need is a little bit of rest and relaxation, massages can often be just the 'feel good' boost you need. There are many massage options in Downtown Vancouver. However, a few of the highly-rated ones by RMTs are:
Everest Therapeutics Massage Therapy (Downtown Vancouver location). As of November 2020, this clinic was rated with 4.9 out of 5 stars based on 152 Google reviews. Find it at 970 Burrard St MZ2, Vancouver, BC V6Z 2R4.
Vancouver Sports Massage Therapy. As of November 2020, this clinic was rated with 4.8 out of 5 stars based on 73 Google reviews. Find it at 885 Dunsmuir St Unit 108, Vancouver, BC V6C 1N5.
Of course, you can also get massages at spas, such as at Smile Thai Wellness Spa. As of November 2020, this spa had 4.8 out 5 stars based on 346 Google reviews.
Seeing a doctor at a walk-in clinic in Downtown Vancouver
Unlike places to get a massage in the area, Downtown Vancouver doesn't have many walk-in clinics within its borders (there are more at nearby neighbourhoods, though). If you need to see a doctor urgently, options include:
Sina Medical Clinic at 505 Smithe St, Vancouver, BC V6B 6H1.
Coast Medical Seymour at 1018 Seymour St, Vancouver, BC V6B 3M6.
Other medical clinics in the area may require being a regular patient of a doctor at that clinic. There are also medical clinics that tailor to specific health needs in Downtown Vancouver.
Downtown Vancouver has more to offer than meets the eye!
Although a lot can meet the eye when in Downtown Vancouver, it's still true that all of its offerings can't be exhausted in one list or article. Being such a historic, densely-populated and diverse neighbourhood, it's almost as if one would need to ask: "what isn't in Downtown Vancouver?" Basically, the answer would be "residential lawns and farmland!" As far as amenities, community services, entertainment, business opportunities and housing goes, Downtown Vancouver is sure to deliver.